Freezer container HIEZO
What's HIEZO ?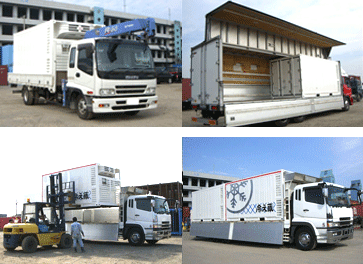 HIEZO is a SPECIALY DESIGNED freezer container which is made to our exclusive specification.It is much lighter than normal freezer containers, which allows you to shift the goods IN ONE SINGLE PROCESS without unloading them from the container mid-journey.

These HIEZO containers can also REMOTELY MONITOR THE TEMPERATURE when the container is not nearby. This assists you to ensure your goods are kept at the optimum temperatures for adequate storage.

The dimensions of HIEZO containers are; Length 4650mm , Width 2350mm, Height 2350mm. As shown in those photos, these dimensions allow the HIEZO container to fit perfectly on standard trucks for container handlng. In addition, with HIEZO containers, you are able to carry frozen goods and dry goods at the same time, allowing excellent efficiency from the one truck.
SINGLE HANDLING OF FREIGHT
The design of the HIEZO container allows you to shift goods easily without unloading and reloading them, saving substantial time and money to your business.
FITS JUST RIGHT
Our HIEZO containers and designed to fits any 4t wide cab, or any Gull wing and flat deck vehicle.
HIEZO basic specification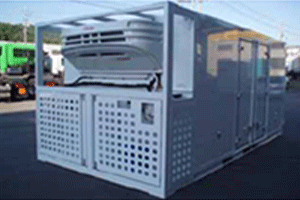 Model : HIEZO IV TDJS50D

Inside measurement
L 4650mm x W 2340mm x H 2300mm
・Freezer ability : -25 degree confirmed, when outside temperature was +35 degree.
・200V Three-phase
・Weight 1450kg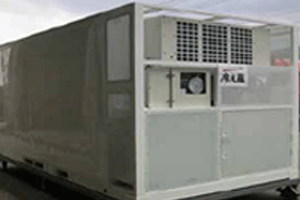 Model : HIEZO III TR28G

Inside measurement
L 4650mm x W 2340mm x H 2300mm
・Freezer ability : -25degree confirmed when outside temperature was +35)
・Remote temperature adjustment system
・GPS
・Weight 2900kg
Inquiry and application for HIEZO
Contact us about HIEZO
TEL: +81 833 44 1100 FAX: +81 833 44 2121
E-Mail: info@truck-one.co.jp