About Us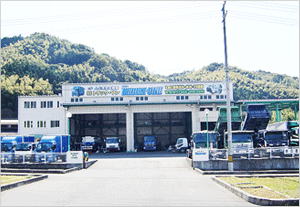 TRUCK-ONE is a publicly listed company specialising in the quality used truck market. With over 20 years experience in Japanese domestic sales and export sales across the world, our company is able to offer a substantial range of vehicles in various sizes, manufacturers and vehicle tools-of-trade. We have 6 dealerships throughout Japan, to service our customers. Dealership locations are Tokyo, Nagoya, Okayama, Yamaguchi, Fukuoka and Okinawa.
We strongly value our relationships with local and overseas agent and dealership customers, and we work together with these customer partnerships, to grow a valuable and profitable collaboration between both parties.
We work hard to provide excellent service and vehicles to our customers, and we look forward to serving your business and sales channel.
You are invited to browse through our online vehicle stock. Please feel free to contact our office at your earliest convenience. For additional information you can contact us by email, phone, fax or on skype. We also recommend you to view our Terms and conditions before purchasing a vehicle. TRUCK-ONE is commited to ensure that the vehicle information we display on our website, details vehicle stocks which belong to TRUCK-ONE or consignment sales with full supporting documentation available.
Thank you for visiting our homepage, and we look foward to hearing from you. We will look forward to hearing from you.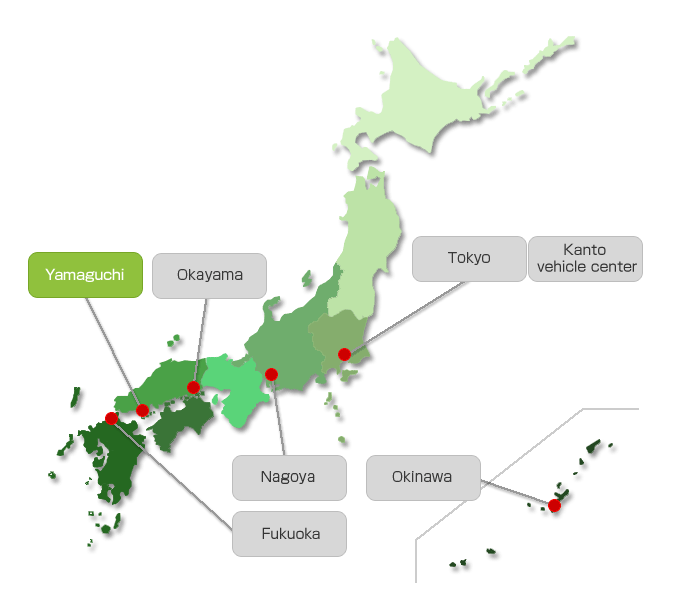 Kanto vehicle center

Nagoya

Okayama

Fukuoka
Company profile
Company name
Truck-One.CO,LTD.
Stock No
3047
Established
Year 1990, January
Capital
JPY 97,725,000 ( 2007. Dec. 31)
CEO
YUUYA OGAWA
Main office
ZIP code: 744-0033
3-3-40 Ikunoyaminami Kudamatsu-shi Yamaguchi-ken
TEL: +81-833-44-1100 / Fax: +81-833-44-2121
Offices
Tokyo
ZIP code: 108-0075
Address: Shinagawa city building 4F, 2-11-1 Konan Minato-ku Tokyo-to
TEL: +81-3-5781-3445 / Fax: +81-3-5781-3446

Nagoya
ZIP code: 496-0014
Address: 32 Kannondo Kanayanagi-cho Tsushima-shi Aichi-ken
TEL: +81-567-33-0910 / Fax: +81-567-33-0911

Okayama
ZIP code: 701-0205 
Address: 4167-1 Seno Minami-ku Okayama-shi Okayama-ken
TEL: +81-86-282-8250 / Fax: +81-86-282-8260

Fukuoka
ZIP code: 811-0117
Address: 781-2 Kaminofu Shingu-machi Kasuya-gun Fukuoka-ken
TEL: +81-92-962-9393 / Fax: +81-92-962-9391

Okinawa
ZIP code: 904-2221
Address: 99-3tairagawa Uruma-shi Okinawa-ken
TEL: +81-98-974-0581 / Fax: +81-98-974-0591


Board member
Director : Masahiko Nakayama
Director : Takatoshi Masaki
Director : Satono Ogawa
Director : Makoto Sakurai
Director : Shinya Ogawa

Employee No
42 people (2011. Mar. 31)
Balance close
December 31st
Stock listed
Fukuoka stock exchange independent listed companies Q-Board
Operational
Domestic sales
Overseas sales
Auction division : Hanjyouya
Purchasing division
Rental division : Freezer
Maintenance and service division
Licensed
Automobile Recycling Law
Fluorocarbons Recovery and Destruction Law
Law of Permit to deal in second article
Main bank
The Bank of Tokyo-Mitsubishi UFJ, Ltd. Tokuyama branch
The Hiroshima bank Ltd. Tokuyama branch
The Iyo bank Ltd. Tokuyama branch
The Saikyo bank, Ltd. Shunan branch
The Yamaguchi bank, Ltd. Kudamatsu branch
Affiliation
Kyokuto Kaihatsu Kogyo Co., Ltd.
FURUKAWA UNIC CORPORATION
NIPPON FRUEHAUF COMPANY. LTD
Ryojyu Coldchain co., ltd.
MARUMA TECHNICA CO., LTD.
Website Japan : http://www.truck-one.com
Website English : http://www.japanese-truck.com
E-mail : info@truck-one.co.jp